Safety, quality and reliability are the core values of Demesne Mechanical & Electrical Engineering Ltd which was named Medium Electrical Contractor of the Year at Ireland's Electrical Awards in the Crowne Plaza, Dublin on June 10 last for carrying out the full M&E installation package at the Hibernia Reit office development in Dublin.
NOTE: This article was published in Building Ireland Magazine, October 2022, Vol 8 No 10
Director Fergal Duffy was delighted to accept the prestigious accolade on behalf of the Demesne Mechanical & Electrical Engineering team who excel at project delivery. The Electrical Awards showcase the best in Ireland's electrical sector, and honour the people and organisations who go above and beyond to shape the industry's future.
"The award reflects well on our people," says Fergal, who established the company in Armagh in August 2008.
"It's a real team effort. Everyone works hard and takes immense pride in their work. There's no science behind it."
From humble beginnings, Demesne Mechanical & Electrical Engineering has grown to employ a top-class team of 60 staff comprising qualified electricians, apprentice electricians, general operatives, office personnel, contract managers, project managers, site supervisors and Health & Safety officers. Fergal has over 25 years' experience in high-end mechanical and electrical installation for high-profile clientele such as Ryanair, Lidl, Mac Interiors, Ganson, Adston, McAleer & Rushe, Purcell Construction, JJ Rhatigan and Glebe Construction.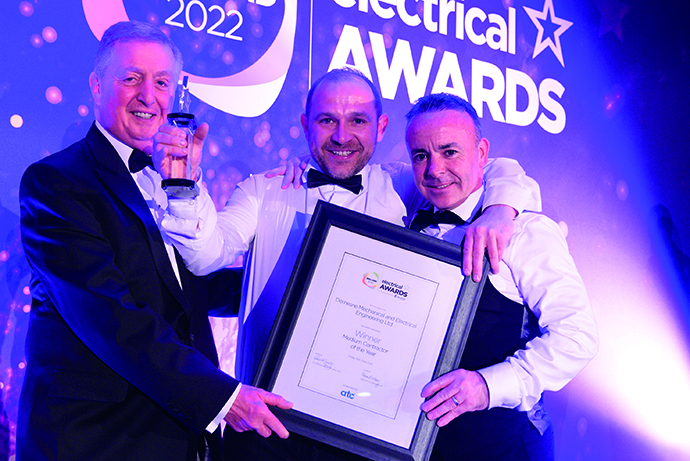 Demesne Mechanical & Electrical Engineering aspires to be the most trusted provider of high-quality mechanical and electrical installations. The contractor exceeds its clients' needs and expectations, and is committed to delivering projects on time and within the agreed budget.
The Armagh-based company believes that sustainable success can only be achieved through people.
No other asset is as important as the people that contribute to its culture and success. Therefore, Demesne Mechanical & Electrical Engineering devotes a great deal of energy and attention to protecting its employees, contractors and any other individuals involved with the company, including suppliers, customers and the general public.
Demesne Mechanical & Electrical Engineering believes that accidents are preventable and that 'one accident is one too many'. The company integrates Health & Safety into the management of its business in such a way that all activities are considered with a view to the prevention of all types of accidents and protection of persons at work. To advance a strong safety culture that effectively prevents accidents, the contractor provides specialist advice to supervisors and employees, and performs systematic identification of hazards, and manages them with appropriate risk assessments and subsequent actions to eliminate or reduce danger.
All staff hold all the relevant safety passes, including Safe Pass, MEWP, Mobile Scaffold, First Aid, Manual Handling and Fitness to Work. The company has held a Grade A Safe T Cert since 2018 and is also registered with the CIF, NICEIC and FGAS.
In summary, Demesne Mechanical & Electrical Engineering is committed to developing and improving its quality management system; enhancing customer satisfaction; establishing the quality policy and its objectives; ensuring the availability of resources.
Demesne Mechanical & Electrical Engineering was feted at Ireland's Electrical Awards for carrying out the full mechanical and electrical installation from design stage to completion at the Hibernia Reit office development, Sobo Windmill Lane, Dublin 2. The electrical installation consisted of the main distribution system, sub distribution system, electrical containment, fire alarm, intruder alarm, CCTV, door access system, general and emergency lighting, human centric lighting control system, general services and small power, mechanical BMS cabling and terminations, structured cabling installation, underfloor busbar trunking and desk modules, and surge protection.
The lighting control system, in particular, facilitated in helping to save energy within the building. The Enlighted energy manager has a reporting feature where Lamp outage reports, fixture outage reports, energy and financial savings reports can be shown. This means that building operators can capture insight into the building system performance.
Luminaires were selected to provide a human centric lighting system. Luminaires incorporate dimming along with correlated colour temperature (tunable white) changes to aid occupants of the building's wellbeing, mood and health.
Demesne Mechanical & Electrical Engineering supplied underfloor track to power desk modules and also utilised decorative general accessories to provide an aesthetically pleasing finish. Mac Interiors were the main contractors, PMEP were the electrical consultants and Luca Architecture were the architects on the project which was also honoured at the Fit Out Awards 2020 and the Institute Design Ireland Awards 2020.
"We have earned an outstanding reputation for providing turnkey M&E and ventilation installations," explains Fergal, who is also manager of the Armagh U14 girls football team and the Pearse Óg senior ladies football team in Armagh city.
Demesne Mechanical & Electrical Engineering has a strong portfolio of completed projects. Examples include Summerhill student accommodation, Dublin (mechanical) – completed September 2018; Ryanair head office, Dublin (mechanical) – completed September 2020; The Denizen luxury apartments, London (electrical) – completed March 2020; Clayton Hotel, Dublin (electrical) – completed March 2020; Dolphin's Barn regeneration, Dublin (electrical) – completed March 2020; Lambeth Palace View, London (electrical) – completed February 2018.
Current projects include three new Lidl stores in Omagh, Dublin (Clonshaugh) and Limerick (Dock Road); Edmund Rice College, Carpenterstown, Dublin 15; 153-bed Chancery Hotel, Ship Street Great, Dublin 2; Our Lady's Secondary School, Castleblayney; 79 luxury apartments in Canada Water, London.
As Demesne Mechanical & Electrical Engineering continues to go from strength to strength, Fergal would like to take this opportunity to thank his clients and suppliers for their continued support as well as his staff and sub-contractors for their hard work, dedication and skill.